It's time for #ThrowbackThursday again! I find myself looking forward to posting about an old favourite every week! This week is a favourite that my sister and I share - to the extent that we often post quotes from this on each other's FB pages. Yes, Lindsay! I'm talking about Jerry Seinfeld's 'I'm Telling You For The Last Time.' Now, anyone who has watched this knows Jerry's expressive way of telling a story. In the spirit of this, I decided to grab my favourite screenshots as opposed to seeking out clips on YouTube. If you haven't seen this Broadway special, I suggest you do!
Here are some transcripts of my favourite bits from this special:
"What is the story on the sinks in airport bathrooms that they will not give us a twist-it-on, twist-it-off human-style faucet? Is that too risky for the general population? Too dangerous? 'We'd better install the one-handed, spring-loaded pain-in-the-ass Alcatraz-style faucet.' You know those ones? Where you gotta go, 'Oh, I got a little water there! Oh, I got another couple drops!' What do they think we would do with a faucet? Turn them all on full, run out into the parking lot, pushing each other into the bushes. 'Come on, the water's on, let's go! I turned it on full blast!' 'You idiot, we're businessmen! We're going to miss our plane!' 'Who cares, water!' That's how they think we'll behave."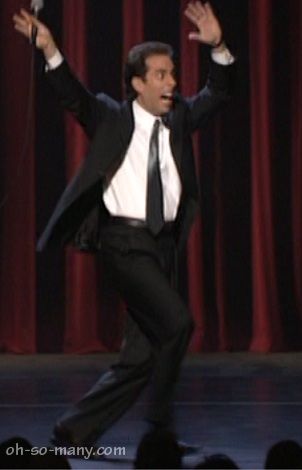 "I just can't drive around there. You know how those old people drive; they drive slow, they sit low. That is their motto. The state flag of Florida should just be a steering wheel with a hat and two knuckles on it."
"Some of these Olympic sports just don't make sense to me - I don't understand their connection to any reality. Like in the Winter Olympics they have that biathlon, you know that one that pairs cross-country skiing with shooting a gun? How many alpine snipers are into this? Ski, shoot a gun... To me. it's like combining swimming and strangle a guy? Why don't we have that? That makes absolutely as much sense to me. Just put people in the pool at the end of the lane for the swimmers...
"And that other one that I love is the luge. You know the luge, where the guy wears a slick suit. This is on the bobsled track, but there's no sled. It's just Bob! It's just a human being hanging on for their life, this is the whole sport.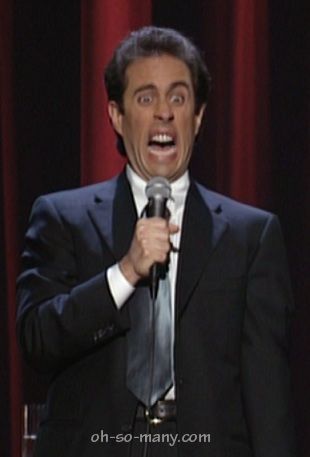 "'Oh he pointed his toes, oh, this guy is a tremendous athlete.' The luge is the only sport I've ever seen that you could have people competing in it against their will and it would be exactly the same. You know, if they were just grabbing people off the street: 'Hey, hey, hey, what is this? I don't want to be in the luge!' You put the helmet on him, you wouldn't really hear him scream. Just, 'You're in the luge, buddy!'
'Ahhhh...ahhh......................ahhhhhhhhhhhhhhhhhhhhh.'
"World record. Didn't even want to do it. I'd like to see that event next year. The involuntary luge."
And there are so, so many more, but I was laughing too hard to get any more screenshots. So I hope you'll check it out! If you HAVE seen it, please share your favourite part! Is it "You're dead, you're dead, and I'm gone" or "20 Million? That's a lot!" or "Oat bag! Get your oat bag now! It's oat bag time!" Please share!